Decals, Stickers and T-shirts/sweaters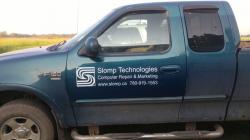 We make vinyl for Signs, Cars, T-shirts, sweaters, windows, truck GVW stickers you name it! We have an one meter wide cutting machine which can cut a roll of vinyl into the shape you need it.
After the vinyl is cut we can apply it to clothing with our heat press. We using the more expensive vinyl for sports shirts just so we are sure it will last longer.
The stickers can be applied outdoor or indoor and even on the side of your car or truck.
Did you know your company name has to be on the side of your commercial vehicle in Alberta? We can provide the sticker on the side of your semi truck, the weight stickers and the company logo sticker.