Fluet Landon Accounting Inc.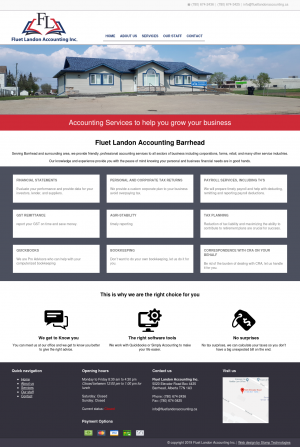 Jullion & Fluet Accounting has a new partner and has been renamed to the new name Fluet Landon Accounting Inc.
With a new company name belongs a brand new website so their clients can find them online. We also got to redo their logo. The website has a Content Management system in the back so they can maintain the web pages and change their staff over time. All their services are managable as well in the CMS.
All the email addresses are switched over from jullionfluet.com to fluetlandon.ca.
The website has a pagespeed score of A (97%) which is twice as fast as the competitor in Barrhead, and even 3 times faster then the other accountant website.
I have also updated their business listing on Google as I am a google contributor and can get changes instandly done on business listings.
Take a look on their website. www.fluetlandonaccounting.ca or with the short url www.fluetlandon.ca
We are hoping to score on accountants Barrhead and be the first one in the search engines. But that will take some time.
Another nice feature is for cellphones. Once they click on the bottom Google Maps image, it will send you right to the turn-to-turn navigation from Google, no need to copy and paste an address to find it.